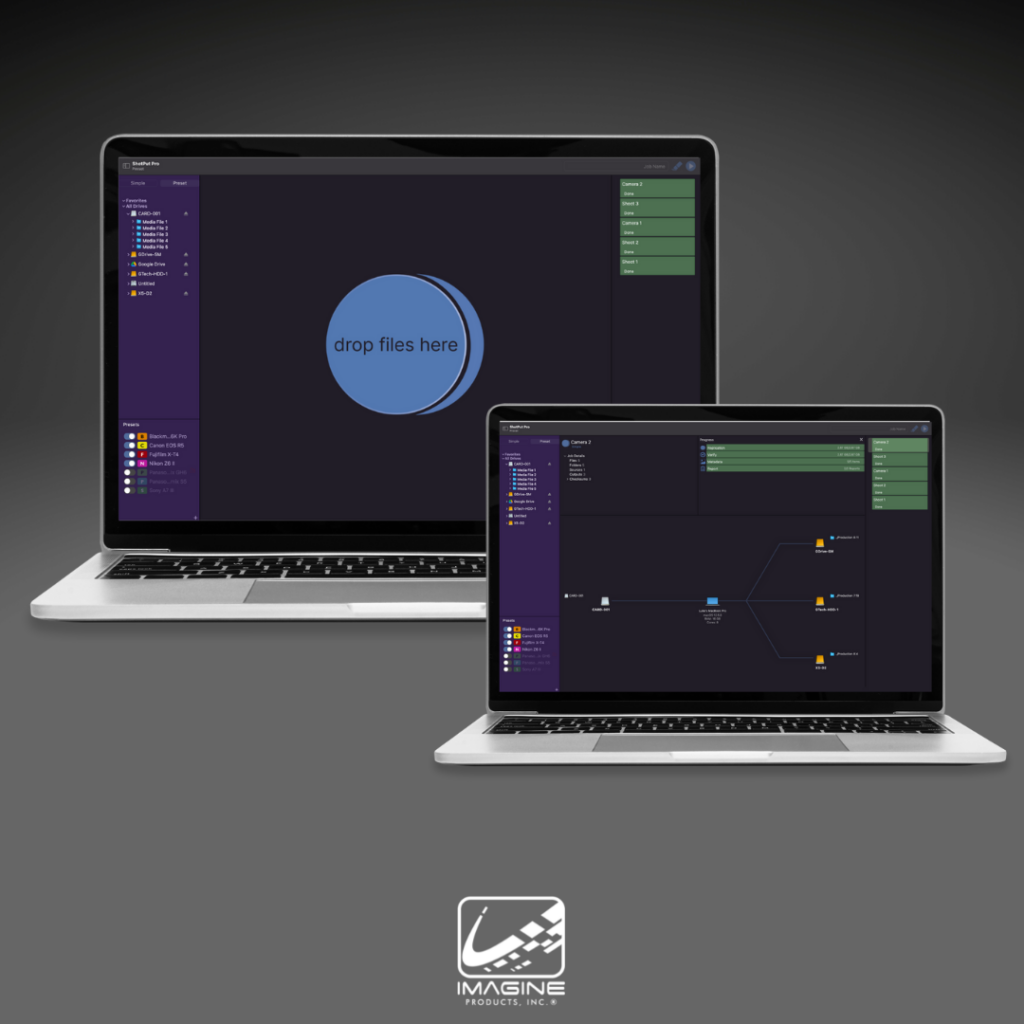 September 14, 2022 — Imagine Products, Inc.® has just released its highly anticipated 2022 update for ShotPut Pro® Mac. This update introduces a completely revamped version of ShotPut that was rebuilt from the ground up. This brand new version of ShotPut Pro includes all new replication routines, memory management, status tracking, and report generation. Although many changes have been made, both to the UI and behind the scenes, the core of what makes ShotPut Pro such a great tool remains. Users will recognize that with the collection of new updates, it will outperform the 2021 version in virtually every way. 
As mentioned, the copy process has been redesigned for today's faster media such as SSDs, NVMe, and RAIDs. As a result, it is much faster and is fully automated to give optimum results. Additionally, the metadata for report generation is now collected concurrently with the copy and verification processes, which helps eliminate lag when generating PDF reports at the end. These PDF reports are now more customizable than ever and allow the user to select up to 10 thumbnail images to be included per video. Other changes to ShotPut Pro's reporting feature include a new offload detail panel for ongoing offloads, and the incorporation of new camera SDKs, including Sony Venice. 
Another greatly improved area of ShotPut Pro is its Preset Mode. Not only does it have a more streamlined feel, but now users have a large range of customization options available to them. The first of these customization options is the ability to select verification types on the preset level, instead of only at a global level. Now, there are also more verification options to choose from, and because they are selectable on the preset level, several verification types can be output simultaneously. Along with these updates, a number of UI changes have been added to improve the overall feel of Preset Mode. Both an entirely new naming scheme view and a brand new date formatting panel have been incorporated. Also, Preset sorting is now improved since presets that are inactive get grayed out. Another addition is the Preset Preparation Resolution Window that appears when an offload begins using a preset that is missing required information to perform the job. There is also an option to have this window appear before every offload, regardless of whether information is missing. This is so the user has the ability to review their selections prior to the offload.
"This update has been a long time coming and is a major overhaul, both in terms of the look and overall performance. The inclusion of the ASC Media Hash List and additional verification types gives you more options when it comes to protecting your media files. Coupled with the all-new Preset mode UI, I think users will find this new update outperforms the previous version in virtually every area," said Luke Erny, digital marketing coordinator at Imagine Products. "We developed many of these new features directly from feedback we've heard from our customers. There simply isn't another product on the market with everything ShotPut Pro 2022 offers in one place at this price point."  
This update for ShotPut Pro is free with a valid upgrade plan. Upgrade plan for a perpetual license MSRP $60. ShotPut Pro v.2022 (MSRP $149), along with its update plan, is now available on the Imagine Products Website.
About Imagine Products, Inc.
Imagine Products develops high value and innovative digital video software to backup, view, share, transcode, and archive media assets. Each application created is made with three ideas in mind; make it powerful, make it easy to use, and make it affordable. Imagine Products has been creating applications and utilities for everyone, ranging from media and entertainment professionals to beginners, for more than 30 years.
###
For more information contact:
Luke Erny
Digital Marketing Coordinator
Imagine Products, Inc.
Phone: (317) 843-0706
Email: marketing@imagineproducts.com