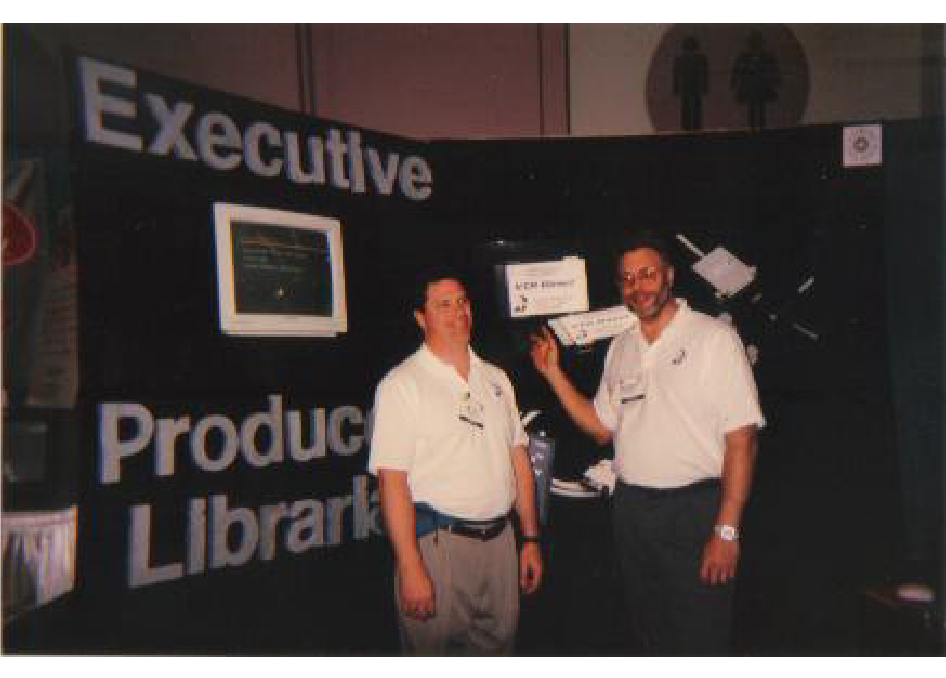 by Dan Montgomery, President of Imagine Products, Inc.
It's hard to imagine just one week ago NAB 2020 was officially canceled. For many of us that seems like a lifetime away. From everyone here at Imagine we hope you and yours are staying safe and healthy. Like many of you we are encouraged if not ordered to shelter in place at home. We continue to work on being workflow experts and thought leaders for our industry.
For this latest edition of NAB: A Look Back, we will focus on the 90s!
A time of neon and mini-back packs, patent leather and vinyl clothes. In film we saw an upswing in CGI, remakes and sequels. NAB was THE place for industry folks to network and see the "newest and greatest" additions. The internet was still working its way into the mainstream.
The 90s were a decade of growth for Imagine and our booths were a reflection of that. After the first 3 years we graduated to 20 foot booths and eventually to 40 foot booths. Back then, the attendees were virtually all male. Imagine my shock when Las Vegas show girls in skimpy clothes and towering head dress were hostesses in the Panasonic booth. There was an expectation that both exhibitors and attendees wear business attire. Black suits abound. There were disapproving whispers when Avid's booth staff wore only polo shirts! Gasp! Who did these punks think they were?!
In 1995, Francis Ford Coppola came by our humble booth. Most intriguing to him was our new "AI" technology, "Auto Capture Technology". It would automatically detect scene changes in an analog video stream based upon pixel color changes. You could simply feed video through your computer capture card and let the logging software figure out when scenes changed–grabbing thumbs and timecode as it went. Very ground breaking and patented too!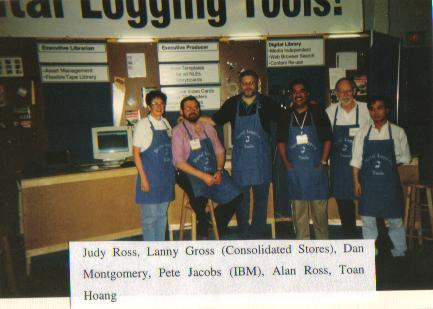 1999 was probably one of our most highly memorable booth displays ever. The sitcom, Home Improvement was wildly popular. With rough sawn wood workbenches, hammers, saws and personnel in denim aprons. It played off the tag line "Digital Video Tools". To this day, we STILL have customers and friends come by and reminisce about our "tool time" booth!
Highlights from 90s booth:
1994: a fork truck delivered our boxes with gapping holes and hardware falling out. Our empties never made it back to the booth at the end of the show. We went dumpster diving for boxes to ship equipment home…. this would not the last time empties were lost!
1998: the year of our first 40 foot booth! We were in the big leagues now. The night before the show, we were completing several workstations for demos. A brand new Macintosh G3 was sitting on the floor when the carpet was vacuumed. The static electricity toasted it—wouldn't boot up!
Imagine Products was very successful in the 1990s. We did several custom software solutions for companies like IBM (their Digital Library), Montage, BTS Media Pool, Fast Computer, D-Vision and more.
A trip down memory lane is always fun and it reminds us all that although life is uncertain now… the show will go on. Watch for Part 3, the 2000s coming soon and we will keep looking forward in this ever changing world. Until next time, stay healthy and safe M&E friends!
Read Parts 1 now!