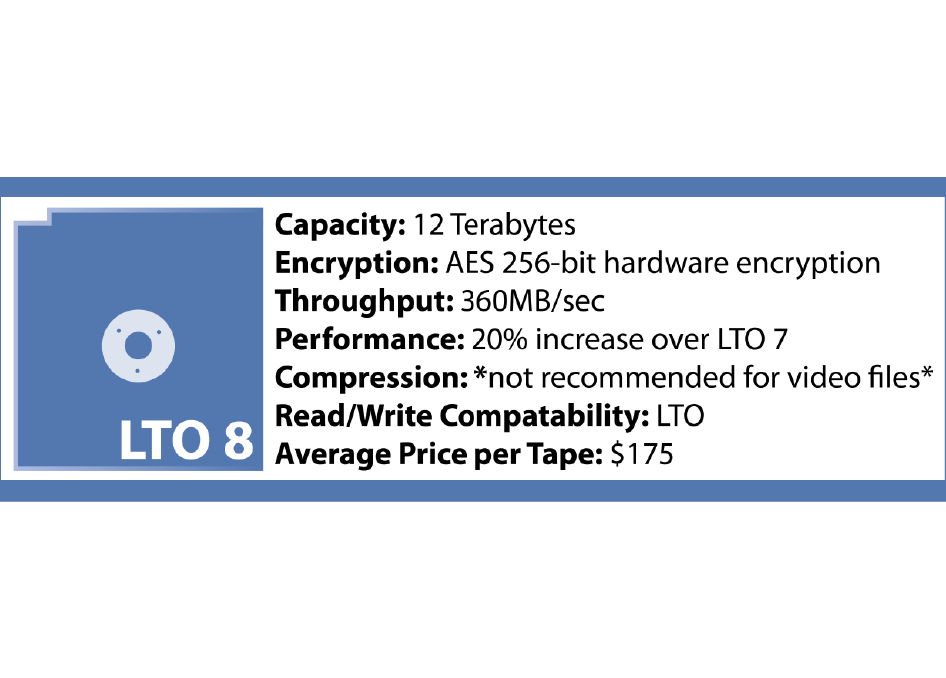 Before reading this blog post, please consider reading Parts 1 and 2:

Part 1: You're Settled on LTO/LTFS, Now what? 
It's time to get back into the LTO discussions! LTO 8 has been shipping for a few months now, here's the skinny:
So basically, LTO is here to stay and its becoming more affordable with denser capacity! That's awesome, right? Right! In this blog series we've defined LTO/LTFS archiving and why it's a secure form of long-term storage. We've shared best practices through out all parts and we will do that here again. But we'd also like to share what other industries are turning to LTO/LTFS use and why, as well as diving a little deeper into the use in the M&E industry.
We've been pleasantly surprised in the scope of our customers here at Imagine Products. We've been working in the media and entertainment industry for years (27 but who's counting!) and the longer LTO/LTFS archiving is out there the more diverse our customer base becomes.
We have many real estate offices that use PreRoll Post to archive files. And this make sense because they obviously have a TON of stuff to archive – have you ever bought a house?? The amount of paperwork is daunting… now think about storing all of that. LTO/LTFS makes perfect sense. We have several churches who use myLTO to create archives as well. Which is great because it's a low cost, long-term storage solution for them. It's also simple to use, so almost anyone can be trained on it. There are also doctors offices and law firms that are now archiving with LTO/LTFS hardware and software.
At NAB this year we learned that many of our partners in the archiving realm have similar customers. The LTO consortium has done a great job of making this open source easy for everyone to adopt.
LTO.org published a white paper a few days ago which does a great job outlining how LTO/LTFS archiving is being used in the media and entertainment industry. It shows how we've moved past just archiving finished projects and are now utilizing it throughout the entire process.
This is great because it tells us that LTO/LTFS is widely accepted, and here to stay. As if the peace of mind from knowing that the LTO consortium was backing this wasn't enough!
The white paper, which can be read in its entirety here, details how Sim Digital uses LTO/LTFS to manage workflows. Here's that excerpt:
For SIM Group, a post-production technology and services provider, the challenge was to come up with a storage solution that could be used to easily by local production teams and that would also protect the group's media assets in a secure manner.

SIM – which specializes in on-set data management, digital dailies editorial system rentals, and data archiving – could not always afford to send their own production team out on production shoots. So they often looked to local production resources to handle camera media offload and backup dailies. But that meant they needed a solution that was simple to use and required minimal training.

SIM Group also wanted a flexible solution that allowed them to support widely varying workloads; sometimes they would have many projects, and at other times just a few. They were looking to maximize their production efficiencies while safeguarding customers against unanticipated costs. The firm wanted to protect each day's production to reduce the need for any reshoots.

To accomplish these goals, SIM Group implemented a workstation application from Imagine Products to transfer camera media to LTO with LTFS tape. The solution allowed SIM Group to index camera originals automatically and scale their usage of the system as their workloads fluctuated. A streamlined setup such as this requires only a workstation and an LTO tape drive, which makes it simple enough for non-IT staff to operate the system smoothly.

"Before LTFS came along, a lot of time and money was put into figuring out how to de-archive other companies' tapes," says Jesse Korosi, director of workflow services at SIM Group. "With LTFS tapes being recognized in so many different software options, post companies like our are saving money not having to build out a new workflow/system for every job we receive that needs to be de-archived."

Side note: Congratulations to Jesse Korosi for being honored at the NAB show this year with a Top 50 Honoree award from Studio Daily!
So where do we go from here? 
LTO/LTFS is here to stay, that's pretty clear and if it wasn't – the consortium has published a road map for the future with LTO 10 having a capacity of 60 terabytes! Looks like storage will continue to get more secure, more affordable and more widely used. We aren't going anywhere! #archivesecurely