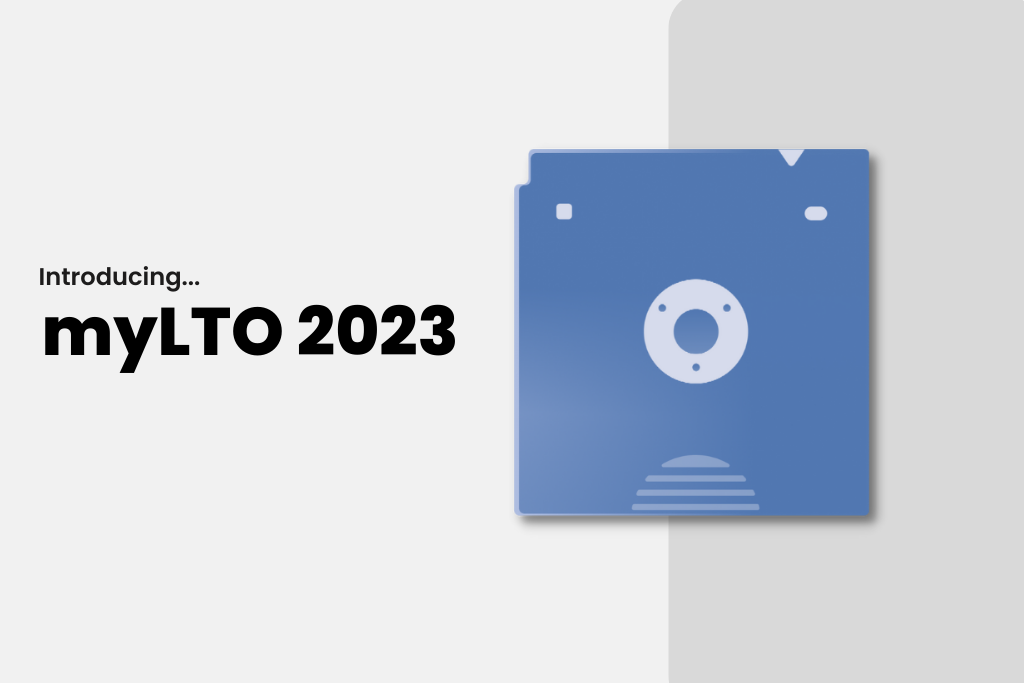 FOR IMMEDIATE RELEASE
Imagine Products Releases its Major 
2023 Update for myLTO Mac
May 24, 2023 — Imagine Products, Inc.® has just released its newest 2023 update for myLTO® Mac. This update marks the second major software release from Imagine Products in the last year, heralding a new era for the digital media workflow company. This brand new version of myLTO delivers notable boosts to both speed and efficiency, while offering users a new streamlined UI that makes it easier than ever to set-up, and manage, your LTO devices. Users will be able to immediately benefit from the numerous new features implemented, making this the most intuitive and powerful version of myLTO ever released.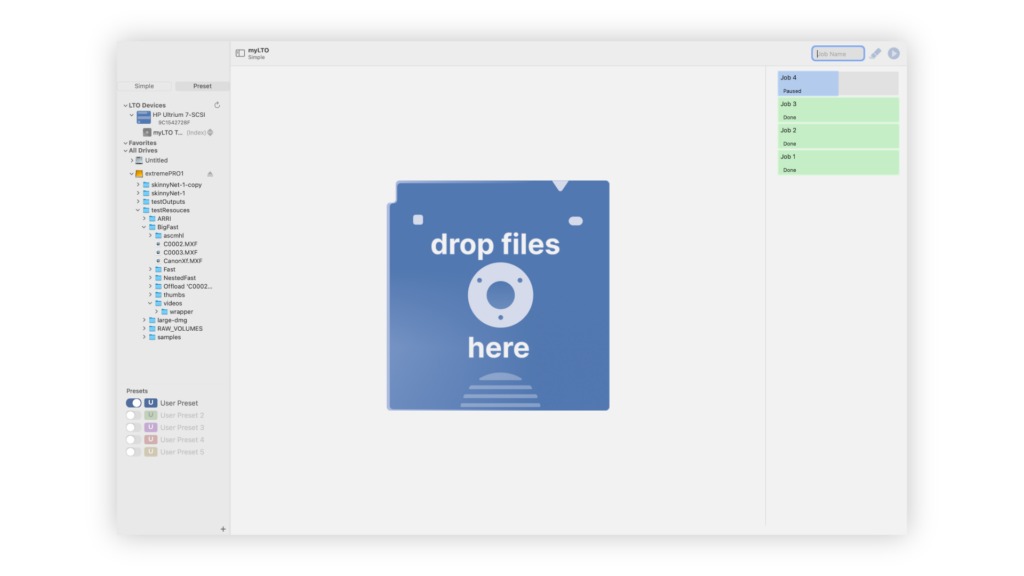 As stated, multiple new features contribute to the efficiency and speed of writing and retrieving data from your LTO tapes. First, upon loading a cartridge into your LTO tape drive, an index will be generated. This will then allow you to view your tape's contents without having to mount and spin your tape, saving you time while extending your tape's lifespan in the process. This index is then cached, meaning next time you insert the same tape, its index will automatically appear. Additionally, new Optimized Retrieval eliminates unnecessary "shoe-shining" by locating and fetching the requested information in one clean pass. Not only does this improve the speed of retrieval, but it furthers myLTO's ability to help lengthen the lives of both your tape and deck.
Another aspect of myLTO that has been greatly improved is the set-up process. What is oftentimes seen as the most confusing part of using an LTO tape has been made much simpler in the newest update. Using our Built-in LTFS Libraries users can skip the painstaking process of locating and downloading the correct LTFS version for their LTO deck. This feature has been paired with the brand new myLTO Check In, a component check that ensures you have everything you need to begin working with your deck and tape. This includes checking for your LTO tape, making certain macFUSE is installed, and looking at your LTFS to confirm that either the built-in library is active or the specific LTFS library you have installed is compatible.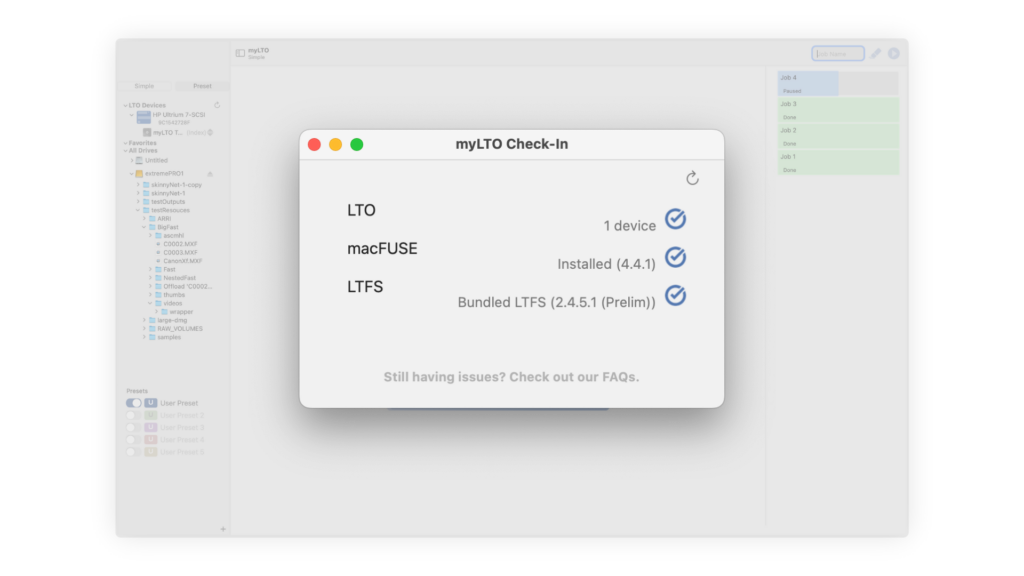 The job history view, while a dynamic feature in of itself, has now been made even more powerful with the addition of Aggregate Reporting.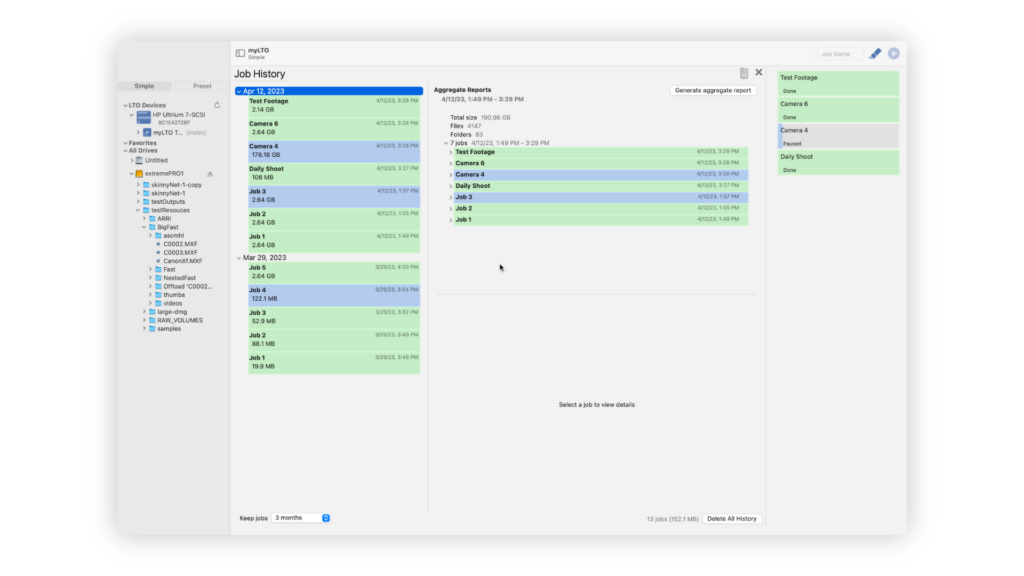 Users can now select a single day, range of days, or specific jobs, and quickly sum up important metrics such as total files archived, total number of folders, and the total size of archived files. This can help give a quick overview of a shooting day and save valuable time. Not only will users be able to view these summed metrics, but they will also have the option to generate a PDF report, including thumbnails, even if this option was not selected in the original job. This allows a user to keep their client in the loop with a single report, rather than individual reports for each job. 
"We're so excited to be able to release this update to the public, it's got a ton of great new features that we know will help save our users tons of time and hassle. All of these features were developed with that in mind, as LTO is notoriously hard to work with. We wanted to make it something that anyone could easily do, and that is really where the Bundled LTFS  and myLTO Check In features come in. They make setting up your LTO device so much easier and help save so much work allowing our users to focus on what matters most, archiving their data," said Luke Erny, digital marketing coordinator at Imagine Products. "This version of myLTO is just a massive improvement in every single way, even the UI has undergone a huge overhaul and is now super slick and provides a very visual representation of the archiving process making it easy to follow, even for beginners. With everything we've added to this version of myLTO it is simply the best option for your budget on the market."
This update for myLTO is free with a valid upgrade plan. Upgrade plan for a perpetual license MSRP $99. myLTO v.2023 (MSRP $299), along with its update plan, is now available on the Imagine Products Website.
About Imagine Products, Inc.
Imagine Products develops high value and innovative digital video software to backup, view, share, transcode, and archive media assets. Each application created is made with three ideas in mind; make it powerful, make it easy to use, and make it affordable. Imagine Products has been creating applications and utilities for everyone, ranging from media and entertainment professionals to beginners, for more than 30 years.
###
For more information contact:
Luke Erny
Digital Marketing Coordinator
Imagine Products, Inc.
Email: marketing@imagineproducts.com