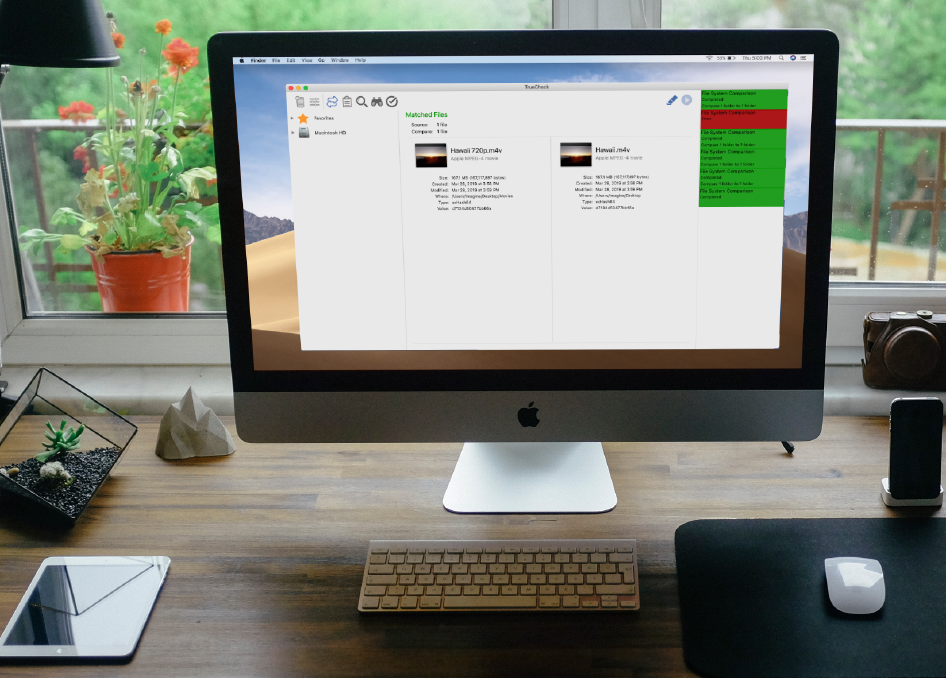 The long awaited file analysis app, TrueCheck is now available!! This app was created from multiple features requests from YOU, our loyal users and an older comparison app called ShotSum. This one of a kind app is a vital tool for anyone who works with large amounts of files in the media and entertainment industry. Read on for all the awesome features and learn how TrueCheck will change data integrity forever.
Compare
One of the most highly anticipated features of TrueCheck is the comparison option. Easily compare files, folders and volumes for sameness and differences based on user specified settings. Locate files with in a folder or volume easily.

Working with a team? Compare two volumes together to ensure they are a mirror image of one another. Settings for these comparisons include; checksum, file name and size, as well as date created and modified. This is a game changer for file management and will save users hours of manual work.
Generate

Straight out of the ShotPut Pro features requests! At its core, ShotPut Pro is a copy utility (albeit with a bunch of cool and useful features!) so making a report without copying anything would go against the very nature of its purpose.

Insert TrueCheck: Generate multiple reports of ANY files, folder or volume without making a copy. Need a PDF report with thumbnails and metadata for every file on your drive? We got you. MHL reports required for this project? No problem. CSV and TXT more your style? Ok! Need all four?? Heck yeah you can!

There's also a fancy history tab where you can go back and accessed older jobs. Not only can you generate reports, you can also import the results from ANY of the features!
Search

And then there's the search feature…. Why not just search in Finder? You can.. but can Finder get down to the nitty gritty of search parameters to find you exactly what you want? Not the way TrueCheck can. Set camera manufacturers and creation date range, with specific file type AND the name and size.
View
Checksums are a crucial part of data integrity. With the view feature, drop a file, folder or volume into TrueCheck and allow it to create and display the checksums for you! Multiple checksum options including xxHash-64, MD5 or SHA are available.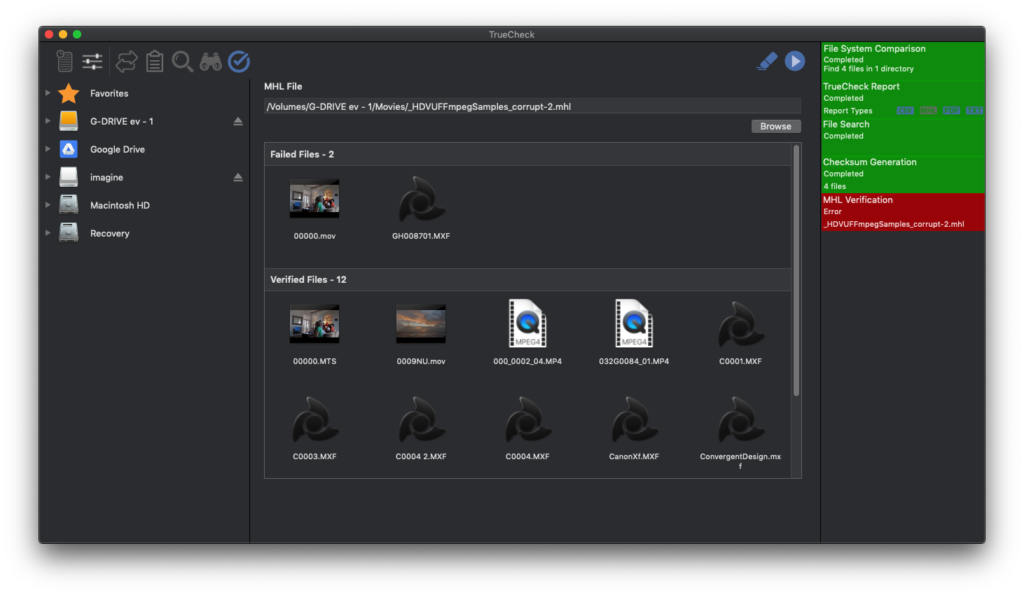 Verify
TrueCheck supports two different types of checksum verification files: an industry standard Media Hash List (MHL) and a simple text list of files and checksums. Verify the integrity of each with thumbnails! TrueCheck will compare the referenced checksums against those calculated for the files within the associated volume. Side note: there's light and dark mode too!
TrueCheck File Analysis app is available now for direct download at www.imagineproducts.com. Perpetual licenses are $149 and come with a 12 month update plan. 45 and 15 day rental licenses are available for $50 and $25 each.