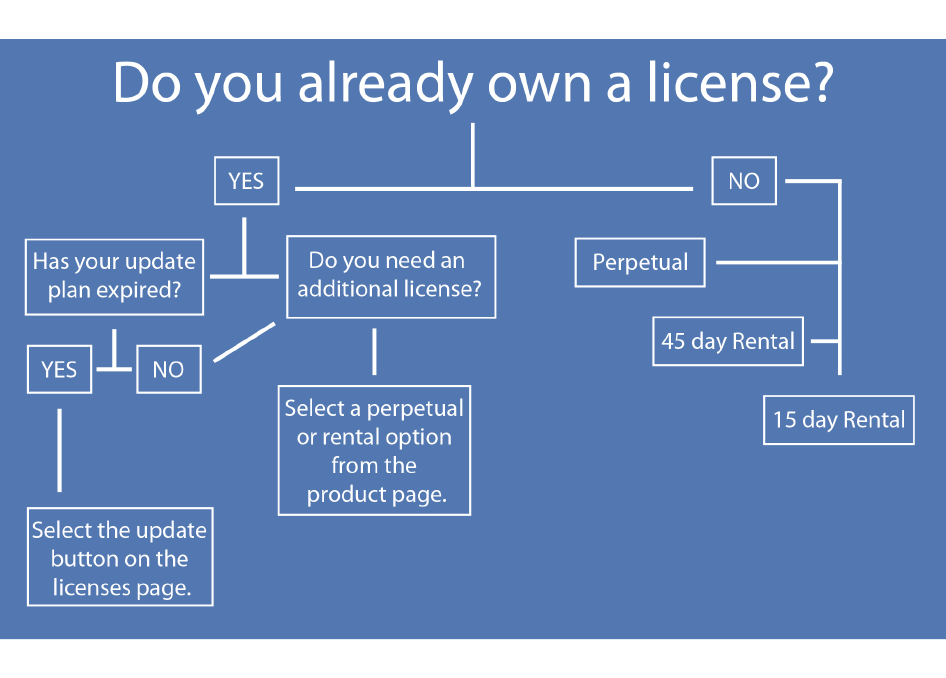 Need a little assistance deciding what kind of license works best for you? Not a problem, we are here to help! First let's cover the different kinds of licenses we offer:
Perpetual = This is also known as a "forever" license. When you purchase a perpetual license it comes with a 12 month update plan. This means that for the first 12 months you will get all updates for free. You will always have access to the license that your plan expired on. 
For example; if you purchase ShotPut Pro 2019.2 and at the end of the 12 months the current version is ShotPut Pro 2020.1, you will always have access to ShotPut Pro 2020.1 but you will no longer recieve updates until a new Update Plan has been purchase.
Updates = If you already own a license you also have an update plan. Our Update plans are good for 12 months. When they expire, you will continue to have access to the licenses and the version that that plan expired on. Update plans can be set up for automatic renewal every 365 days or manually purchased as needed. Prices vary per product.
How do I know if my update plan has expired? Check your licenses page, if the plan expiration date is before today's date, it is expired. Select the update button and you will be prompted to purchase an update plan.

Note: Any license plan can be updated at any time,  you do NOT have to wait for the plan to expire to extend your time. Please refer to the top license in the picture.
Rental = Many of our software is offered on a 45 or 15 day rental basis. Upon activation the countdown begins. At the end of the rental period the license will expire and you will no longer have access to it. Rental licenses will always be the most current version of software. These are a great option for short term use, adding a tool to your workflow you wouldn't normally need or adding another workstation to a particular job. Prices vary per product.