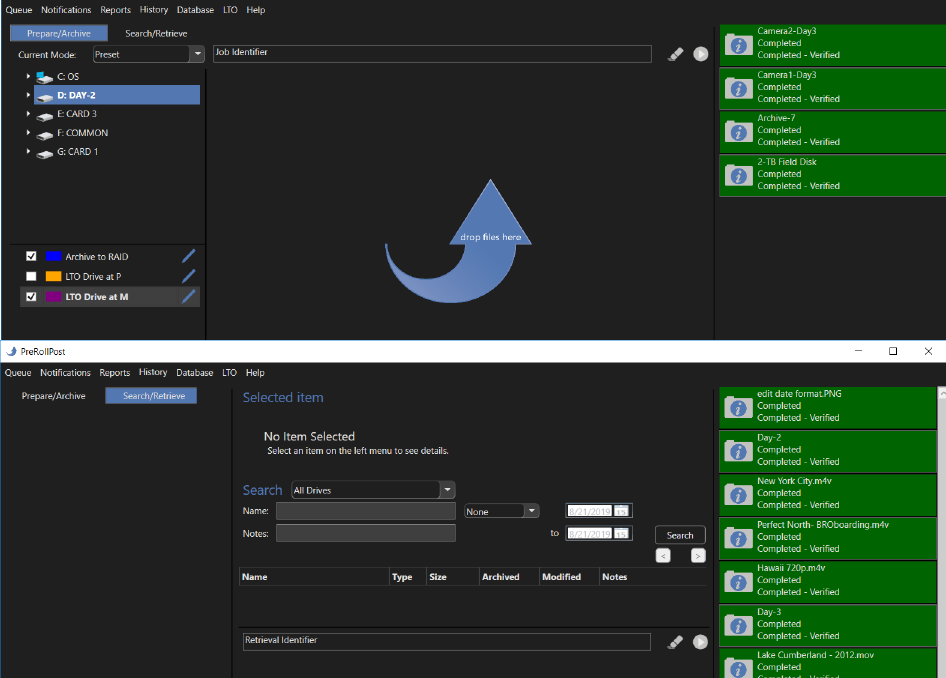 PreRoll Post Windows 2019 is now available. Our LFTS/LTO archival application has been completely overhauled. Here's a look at what's new!
Interface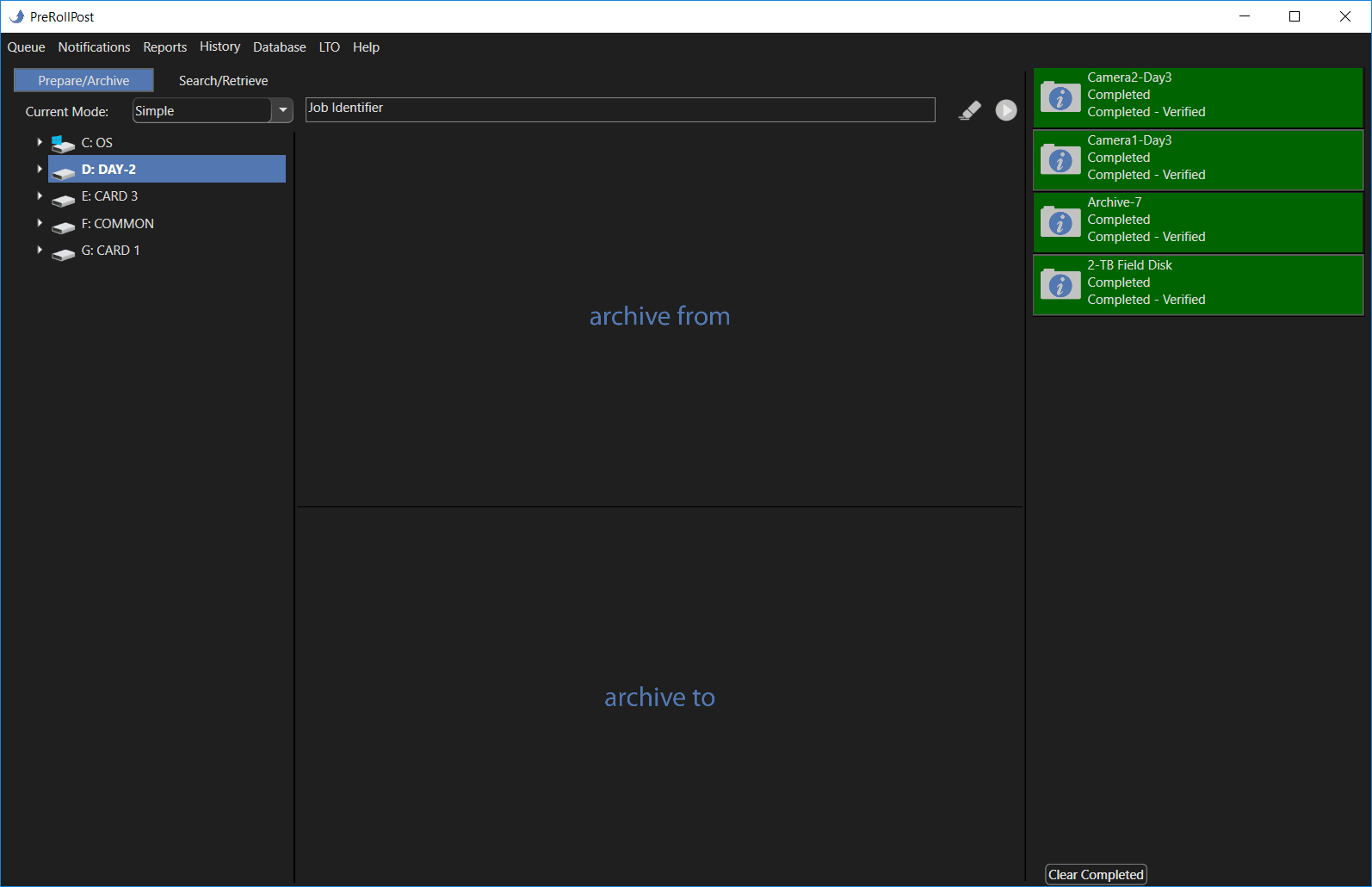 Simple mode is exactly what it sounds like… a simpler archiving process. Drag and drop files, folders or volumes into the top section. Then choose your destination, like an LTO tape or hard drive. If you want to create a new folder for the archives you will want to use the traditional PreRoll Post view, Preset mode.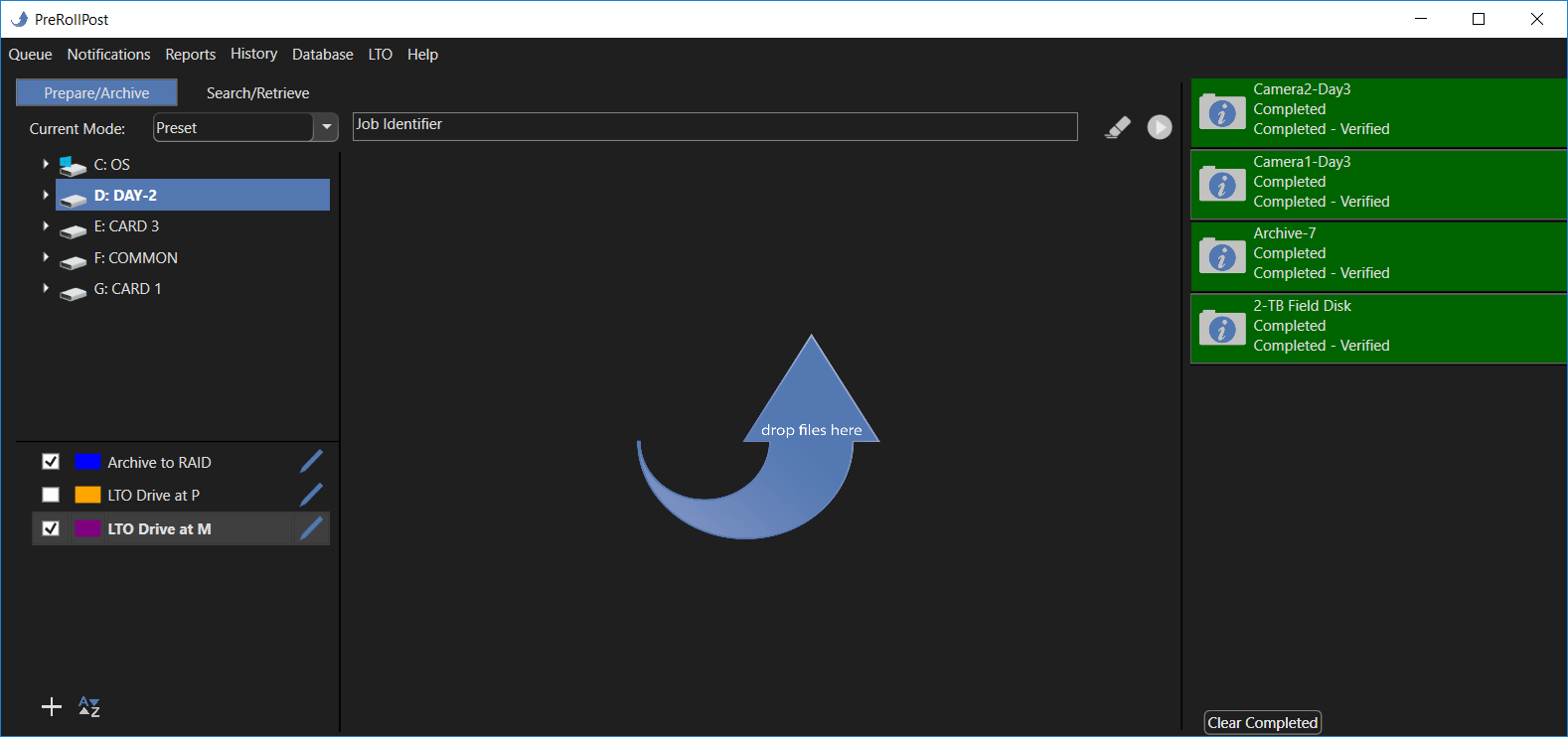 The traditional view or Preset Mode is still available and functions the exact same way. We've simply cleaned up the menus a bit and prettied up the interface.
MHL and PDF Reporting
Media Hash List or MHL are now available in the report output options. Not sure what an MHL is? Let's do a quick break down: MHL is a "standard that specifies how a common inventory list of a folder's content looks like." Read more from the super informative MHL.org!
PDF reports are better than ever. We've condensed the layout to fit more information and thumbnails on one page.
What else is new?
– Diagnostic logs are now accessible from the Help menu. This is a great tool for troubleshooting.
– Group tapes together in the database to organize projects and jobs easier.
Search and Retrieve
Archiving is great but if you can't retrieve it or access it later, what's the point? Our new retrieval system is  faster and better. Each LTO tape is added to the database. NOTE: LTO tapes made outside of PreRoll Post can be indexed into the database as well. (Mount the tape > right click > import. EASY!) The search dialog enables users to find the items easily. Then PreRoll Post prompts you through the retrieval process with real time status updates throughout the process.
Read more on the PreRoll Post Windows page under version info!
How do you get it?
PreRoll Post Windows is available for direct download and can be purchased from the PreRoll Post page.
If you already own a perpetual license of PreRoll Post Windows and your update plan has expired, you can purchase a current plan by following the instructions here. Not sure what an update plan is? No problem:
What is an update plan?
An update plan gives you access to all the updates during its active period. It comes standard with any perpetual licenses purchased after October 29, 2018.
What if I bought my license before October 29, 2018?
No problem, you can purchase an Update Plan for each license that you own.
Do I have to buy an update plan?
Nope! A perpetual license means you always have access to the version that you purchased. If you don't wish to move away from that version, we won't force you to. You will stay on that version until you have a current update plan.
How is this different than the upgrades Imagine Products used to provide?
It's very similar, but you get immediate access to any updates published!
How do I purchase an update plan?
Purchase update plans directly from the Licenses page in your account. Here are step by step instructions.