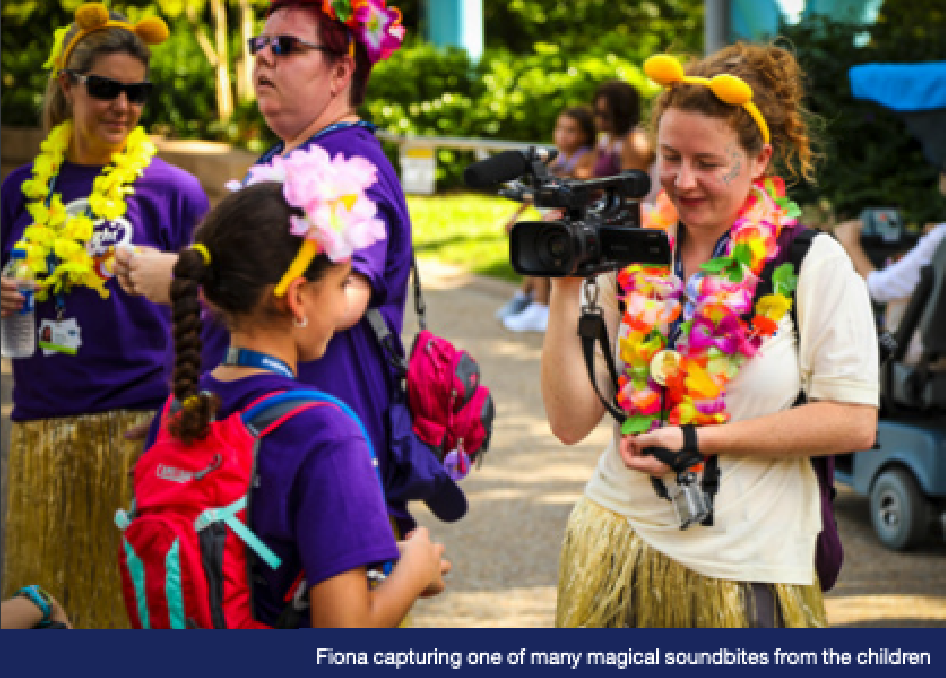 What is Dreamflight?
Dreamflight is a UK based charity that takes flight once a year to jettison children ages 8 to 14 suffering from illness or disability to the Happiest Place on Earth – Disney World. Accompanying them are volunteer videographers and camera crews that capture the once-in-a-lifetime trip. Then create a 90 – minute video for the children, family and friends.
This blog will take excerpts from an article written by Fiona Donald for Zerb magazine. Fiona is a volunteer videographer for Dreamflight. Imagine Products is proud to provide ShotPut Pro licenses each year for this magical trip.
"I first found out about Dreamflight via the GTC (The Guild of Television Camera Professionals). I was training to become a camera operator with BBC Studioworks …. Filming for Dreamflight is very different to the studio environment I am more used to. At the time I was still new to the industry and very keen to try all types of camerawork. When I heard about Dreamflight, I couldn't wait to get in touch with the camera team organisers, Neil Harrison and Jon Boast, to throw my name in the ring. I'm so glad I did as it's been an amazing experience. It is one I look forward to each year."
Many of the children to go on the trip need round the clock medical assistance. In addition to the kids and family members, a team of doctors travels with them. This provides the families peace of mind and immediate medical care if need be. "Many have never been on a plane or a rollercoaster before and have had few chances to make friends, due to being home-schooled or hospitalized. This trip take them out of their comfort zone and builds confidence in their ability to achieve anything they set their minds to."
How it all began
Patricia Pearce MBE first started Dreamflight in 1987. Now 32 years and 5000 kids later, Dreamflight is running stronger than ever. Each trip costs over £1 million which is 100% funded by volunteers who raise £3000 per child.
British Airways stepped up in a big way for these kiddos. They customized a 747 aircraft from top to bottom and the fun begins the moment they board. "On board the flight, the children can become stewardess, get their face painted or run their own nail salon for all the adults to visit. And, believe me, you'll be in big trouble if you take the nail polish off before the end of the trip – men included!"
How it all works
12 regional groups from the UK, with special Disney or Universal names are appointed a dedicated camera operator. "While I am personally assigned to film the Pooh Bears, we all support each other throughout the whole trip. If we spot a special moment with any child, our cameras are always at the ready, even if that child is not part of our own group. The great thing is that there are no strict rules regarding the video produced after the trip. Everyone shares their ideas each evening about how to film the rides.  But it's down to you to make the creative decisions."
Bringing it all together
12 different camera operators means TONS of equipment and computers to get all the magic captured. For 10 days these volunteers begin filming at 8am when the buses roll out and head to a park. Around 6pm they return for a quick battery change. Then back to film the evening activities which range from Halloween or Disco parties to NASA night! The kids are usually asleep by 9pm. But the work continues. Nightly data wrangling sessions and plans for the next day begin in the media room.
"Dreamflight is a brilliant opportunity to be creative with your filming as you are director, camera operator, sound operator and editor all in one. The whole video is yours to create; the only stipulation is that you cover the children as equally as you can across the 90 minutes. At first I was a little nervous knowing that I would be solely responsible for capturing the children's priceless holiday in Orlando. There is no second camera, no take two and, with 16 excited children, everything is a one-take wonder!"
M&E industry support
Dreamflight media team is supported by the M&E industry with some of the top products available. Canon XF105s and GoPros are provided by Procam and hireacamera.com. For several years, Imagine Products has provided each camera operator with their own ShotPut Pro license to help offload the footage during the trip.  Audio Technical AT875R shotgun microphones capture sound which can be tricky in an amusement park. The GoPros also help capture laughs and screams on roller coasters often attached to a chest or wrist strap.
Opening doors
One Pooh Bear was particularly keen on photography. "We spent a lot of time learning and working with the camera. When we landed back at home, he ran up to his mum, grabbed his phone from her and brought it over to show me all the photos he had taken prior to the trip. One girl in my group loved singing. We encouraged her to take part in the open mic night. She sang a Disney melody she'd written herself! After the trip, she was asked to sing in the new Dreamflight song, written and sung by Ollie Wade a fellow camera operator. There's a music video where she and a few other Dreamflight children sing with a 20-piece choir."
You can watch it here! – Grab your tissues
If you are interested in volunteering and joining the fun, please visit: www.dreamflight.org or contact: tel: 01494 722733; email: video_team@dreamflight.com