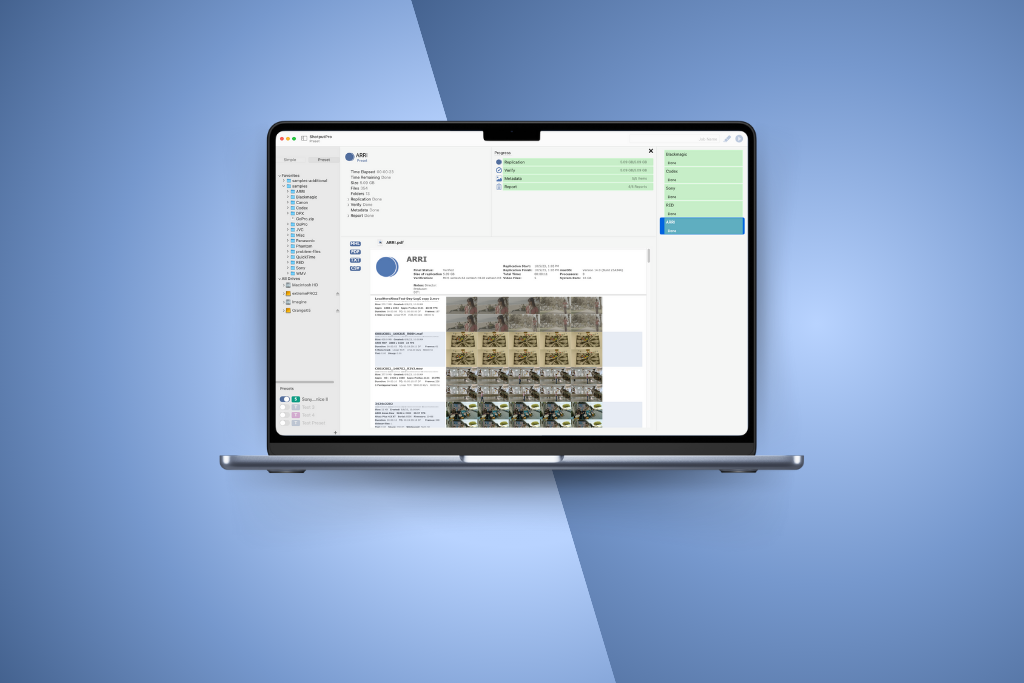 With the newest update of ShotPut Pro we implemented a lot of new behind the scenes items and fixes that make it smoother than ever, although they may not be readily apparent. Read on for details of what exactly is in this update of ShotPut Pro Mac.
New SDKs and Thumbnail Support
ShotPut Pro 2023.2 offers a number of the latest media libraries, ensuring your reports are kept up to date. New SDKs include…
Arri Image SDK 8.1.0
Blackmagic RAW SDK 3.3
RED R3D SDK 8.4.0
Sony RAW SDK 4.1.0
Along with these SDKs, this update adds support for Alexa 35 HDE MXF files and Sony Venice 6K & 8K files. This included support allows ShotPut Pro to gather thumbnail images for both of these file types so your PDF reports are comprehensive and can be shared easily, no explanation of missing thumbnails necessary.
macOS Sonoma Compliance
This version of ShotPut Pro has been fully tested on the new macOS 14 Sonoma and all known issues have been addressed. The main patch this build supplies is increased stability when using exFAT formatted drives. If you are using exFAT drives in your workflow, this update is a MUST before updating to Sonoma.
If you do not use exFAT formatted drives earlier versions of ShotPut may run without issue. However, they have not been as extensively tested and it is recommended all users update to ShotPut Pro version 2023.2.1 before updating their OS.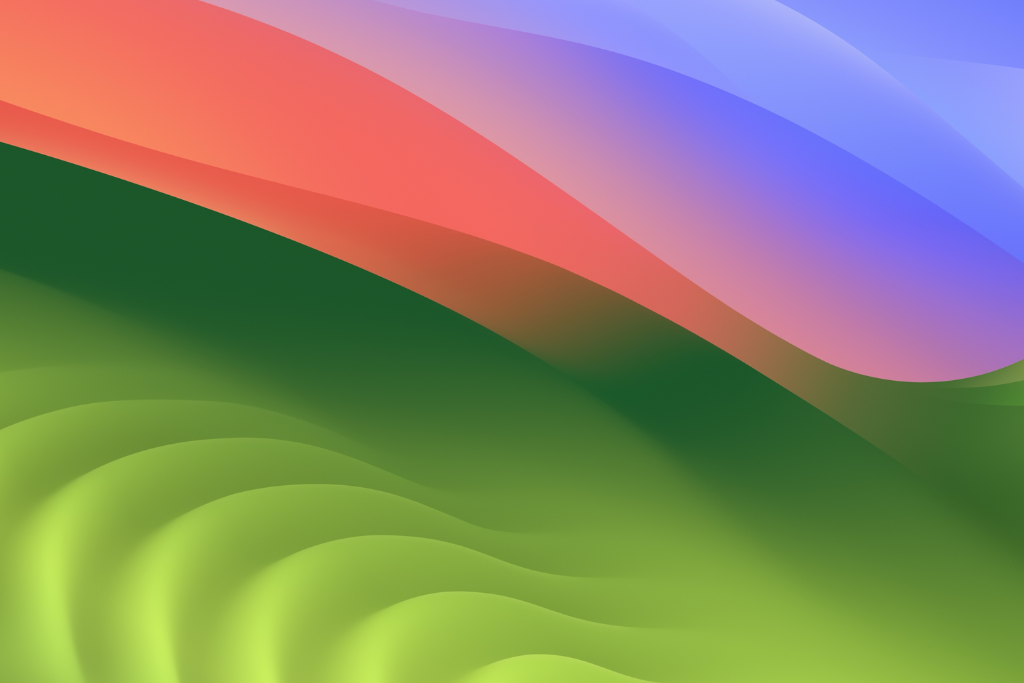 While this update to ShotPut Pro provides Sonoma compliance, whether you update or not is a bit more complicated. When it comes to the machine or machines that you will be trusting to backup your valuable data, you don't often want any surprises from the operating system. Unfortunately, that is exactly what can happen when using a brand new OS. While Apple thoroughly tests new macOS versions before release, bugs will continue to appear for some time, and the last thing you want happening is something going wrong at the end of a 100GB+ offload.
For this reason, we recommend holding off on updating until the majority of issues have been discovered and there is a (mostly) stable OS version available. But if you can't wait, we totally get it! And if you do update, and find that it isn't all it was cracked up to be, check out this article for tips on downgrading.
Media Analysis Options
This update also provides a couple new media analysis options that give you more control over this step of the copy process. Keep in mind, media analysis only occurs if you are generating a PDF report with thumbnails.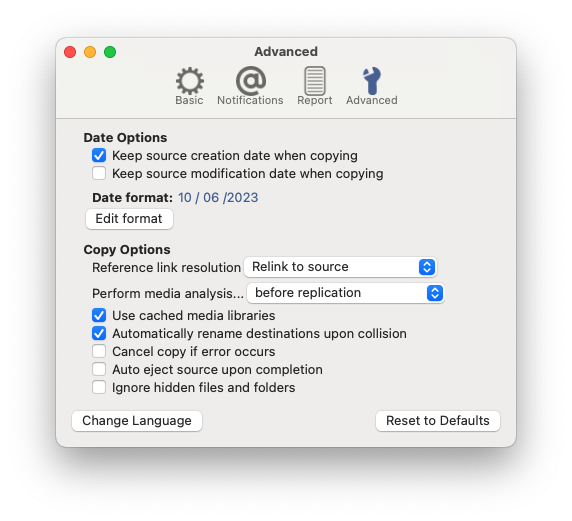 The first of these is an addition to when media analysis can be conducted. You can now choose the option Before Replication to have your metadata collected first thing.
The second, allows you to select whether or not to use Cached Media Libraries when gathering thumbnail images. Using said libraries is the default option and gives the fastest possible results. With this in mind, why would you ever want to turn this option off?
Because media analysis utilizes multiple third party SDKs, it's possible to experience performance degradation and memory bloating after continued use of the same in-memory libraries. When this option is unchecked, each media analysis operation will utilize freshly loaded media libraries and remove them from RAM once the analysis is complete. While this option is slower, it can be more reliable if media analysis is failing while using the Cached Media Libraries.
Purchasing an Update Plan
If your license of ShotPut is already in maintenance, no action is needed. Simply select Check for Updates in the menu of ShotPut Pro.
If you interested in taking advantage of these updates to media analysis, purchasing an update plan is easy. First head to our website and login. Then go to Account > View Licenses > Update.
You can buy updates plans for 12 months ($60 USD) or enroll into automatic updates ($49 USD/year) to guarantee your license is always kept up to date. Once you've purchased an Update Plan, the download link beside your license will switch to the latest version. Download and install from there (rather than Check for Updates within the application).
Email support@imagineproducts.com with any questions or concerns.