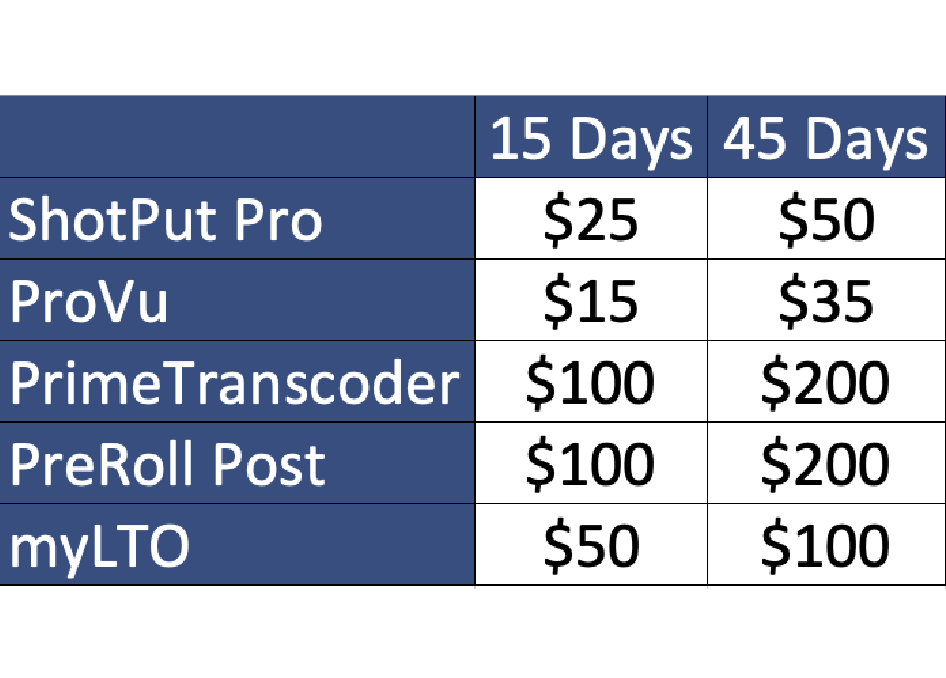 Rental Licenses
Sometimes you want to own something outright and sometimes you need flexibility. Cue rentals.
Don't want any assets after a job? No problem, buy a rental.
Need to make a few LTO tapes one time for a customer? No problem, buy a rental.
Have one job that requires some transcoding? No problem, buy a rental.
Need a second DIT station? No problem, buy a rental!
You get the idea and again, it's all about flexibility for your workflow.
Choose from 15 and 45 day rentals – a few notes:
Activate rentals with their license code.
Activation dictates the expiration date, not purchase. Once the license is activated the countdown begins. They can not be turned off and on again later.
Rental licenses can be moved from one computer to another, the countdown will continue from the first activation.
That's it! Rental licenses are pretty straight forward.
Bundles
Somethings work better together, like peanut butter and chocolate! The same is true for software. We've created software bundles that compliment each other.
ShotPut Pro + ProVu $199
ShotPut Pro, the industry standard for offloading perfectly paired with the quality control checks of ProVu (formerly HD-VU).
Randy Mills was kind enough to tell us about his experiences using this powerful duo from the middle of the ocean, read all about it!
ShotPut Pro + PrimeTranscoder $749
Combine the confidence of ShotPut Pro and the dexterity of PrimeTranscoder, two dynamic tools that work seamlessly together.
Mark Smith talks about his experiences with ShotPut Pro and PrimeTranscoder in his search for Amelia Earhart.
ShotPut Pro, ProVu and PrimeTranscoder $799
One commanding bundle – ingest, quality control and transcoding all at your fingertips.
Sometimes it's just better to have all the tools!
ShotPut Pro + TrueCheck $250
The security you trust from ShotPut Pro and the file analysis tool TrueCheck, to keep you organized.