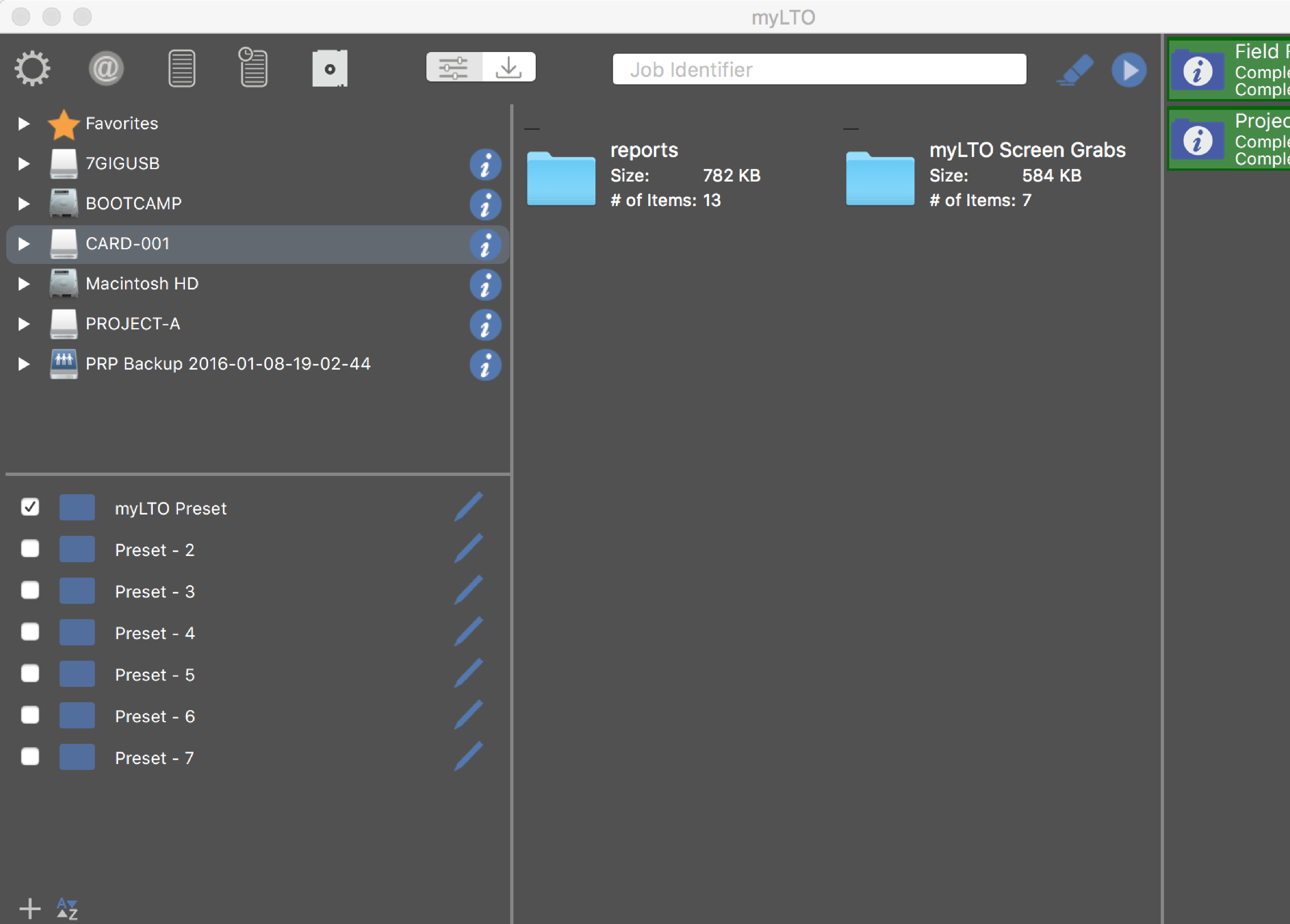 Imagine Products® Announces myLTO™
New LTFS Copy Application From the Creators of ShotPut Pro™
INDIANAPOLIS — August 10, 2017 — Imagine Products, Inc.®, publisher of applications for backing up, viewing, sharing, transcoding and archiving video assets, has released myLTO™ a new LTFS copy software. From the creators of ShotPut Pro 6, and with a similar user interface, myLTO formats and mounts tapes then seamlessly copies files to them. The application checks and corrects for LTFS data compliance and uses checksum technology for guaranteed accuracy. Based the knowledge and technology from PreRoll Post, Imagine's widely used LTFS archive system, myLTO boasts the same speed and security users have come to expect from Imagine Products' applications.
"This application was created for users who need the speed and security we offer in PreRoll Post without higher end features such as video proxies and a database of your tapes. myLTO looks like ShotPut Pro in terms of copy functions, but adds LTFS compatibility and tape controls" said Michelle Maddox, marketing director at Imagine Products. "With this software we can cover the needs of users that just need to make tape backups of their assets both in and out of the media and entertainment industry."
myLTO allows users to mount, format and backup to one or more LTO tapes, or to hard drives, simultaneously. Like all applications from Imagine Products, files can be drag and dropped into the queue. Details about each file or volume like the size and number of files automatically populate.
The LTFS application also boasts detailed reports that can be customized to user'sspecific needs. PDF reports, with thumbnails and metadata for all video files can be selected. CSV and TXT reports are also available.
Similar to ShotPut Pro, naming presets can be set up in myLTO and color coded for quick reference and even shared with other myLTO users. Advanced naming options allow nest folders inside one another for better organization.
In the Destination mode, files, folders and volumes can be dragged from the source column to the destination column into pre-existing folders. Switch the interface between light or dark motif to suit your workflow environment.
In a boon for organizations with multiple seats of software, myLTO uses Imagine Products' new account-based activation system, which has already proven successful in other Imagine Products applications. Applications can now be activated with either the email and password associated with the account the app was purchased, or single use serial numbers can be generated – these are particularly useful to rental houses or large post facilities.
myLTO for Macintosh users is available for download now from www.imagineproducts.com and https://tinyurl.com/myLTOapp. The price is US $299.
More information about Imagine Products and its line of software tools for digital video is available at www.imagineproducts.com.
# # #
About Imagine Products
Imagine Products Inc. develops innovative video workflow solutions that help film and media professionals back up, view, share, transcode, and archive their digital-video assets. Powerful, affordable, and easy to use, these specialized workflow applications have become invaluable tools for broadcasters, postproduction facilities, and others whose businesses rely on digital video. In business for more than 25 years, Imagine Products is based in Indianapolis, USA. More information is available at www.imagineproducts.com.