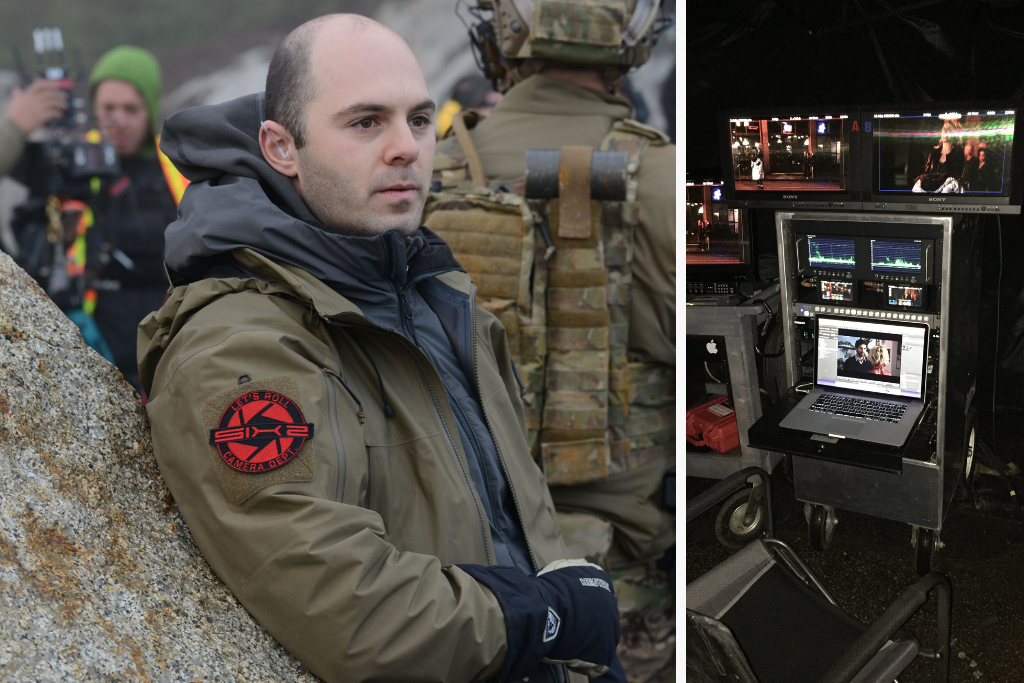 Hello and welcome! First of all, thank you so much for being here. Before we get into the specifics of your set-up, could you give us some background info on how you got your start and some of your past experiences in the industry?
Adam: I've always wanted to work in the film industry. I did my Grade 5 biography project on Steven Spielberg so my parents knew of and approved of my passion at a young age. Their support led to family connections getting me onto various sets before I was a teenager such as 'MacGyver' and 'The X-Files'. This eventually led to meeting a Best Boy Electric and making friends with his Gaffer's ELX crew during a summer while I was still in University. I joined the union that same summer and worked on major feature films (Fantastic Four: Rise of the Silver Surfer) and network TV series (Supernatural, Smallville). After graduating from Ryerson University's School of Image Arts with a BFA in film production majoring in Cinematography, combined with my work experience I was able to use my expanding network and get a few MOW's as a Camera Trainee so that I could get into IATSE 669's Camera Trainee program. I did that for 18 months, graduating to the position of 2nd Assistant Camera and becoming a full member of the union local. I spent the next three years working as a camera assistant on shows such as 'Battlestar Galactica', 'Night at the Museum' and 'Percy Jackson and the Lightning Thief'. In 2011 in the wake of the Fukushima disaster and tape stocks disappearing over night, there was a major shift to file based post production workflows. I was offered an opportunity to work on the TV series 'Alcatraz' as the 2nd unit Digital Loader. This was my first introduction to Shot Put Pro. I continued to work for three years as a loader being mentored by Vancouver's best DITs on shows like 'Fringe', 'Almost Human' and others. In 2014 with a few DIT credits of my own I made the upgrade to that position and have been working in that category ever since.
What types of productions do you usually work on? What are the main ways in which they differ from each other?
Adam: I mainly work on network episodic and SVOD television projects but I'm slowly moving into major feature projects. At the heart of it they don't differ. Large projects do provide the budget to hire more help and there's usually a video assist to take care of playback requests from the director and actors which helps with signal management and overall Video Village duties.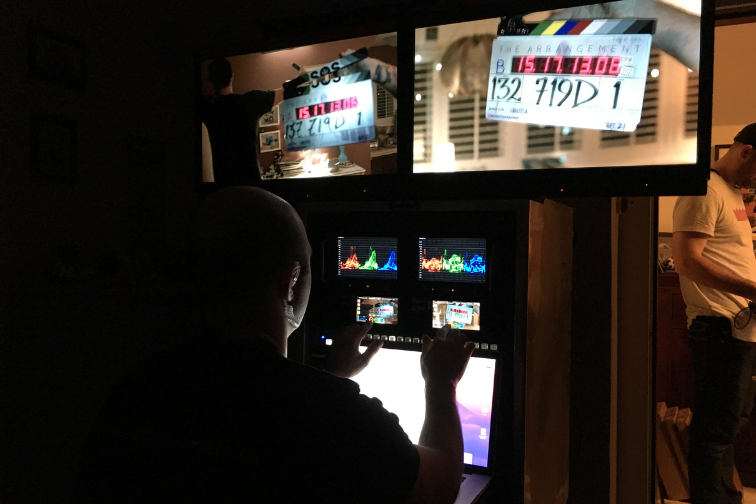 And a follow-up question to that, do you have a favorite type of production to work on?
Adam: My favourite types of projects are shows that travel to unique locals or provide an opportunity to work in a special non-traditional environment. Some examples would be working in Guam on a Netflix feature, doing the ski unit on 'Inception' or flying in a variety of military helicopters on the second season of 'SIX'. Being an avid ski mountaineer I love doing mountain shows.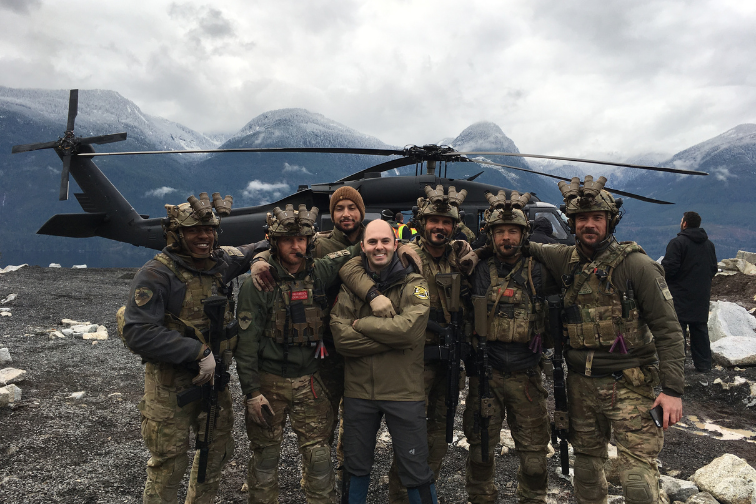 Now everyone has different preferences and a different cart/workstation set-up, could you tell me about yours?
Adam: I run a vertical cart with 18 units of rack rail built around the capability of live grading four cameras. I have two 25" OLED's on top, 2 Leader waveform/vector-scopes, a variety of D/A's, Decimator multi viewer, AJA KUMO router, AJA IO 4K and BMD Ultra-studio for capture and playback as well as a BMD ATEM switcher for doing basic comps and fades to help with matching. I run everything through an Intel MacBook Pro and save my files to an ARECA 8050T2 8 bay RAID and a variety of SSD raids for shuttle drives.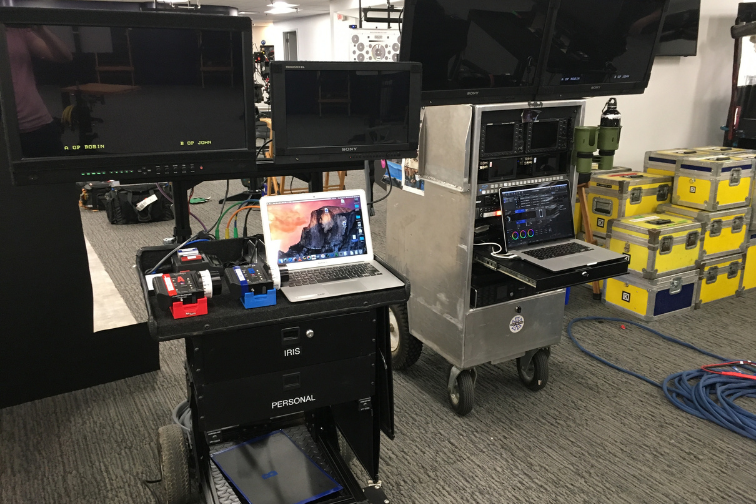 For those that may just be starting to build their cart/workstation, or are in the early stages of it, what are some pieces of equipment that you consider absolutely essential?
Adam: You need a good computer, whether it's a laptop or desktop is totally dependent on workflow and whether you anticipate doing transcodes, suffice it to say that today's MacBook Pro's are excellent products but so are Mac Studios. Next up is a good 1500VA UPS. Then a multi-bay RAID followed by a collection of cables and card readers. Getting into DIT work from being a Digital Loader is a huge step. Don't put yourself into the red! Buy a LUT box first and a few D/A's and start thinking about carts. If all you can afford is a rubbermaid at first that's fine. Buy a 10U rack case and throw it on the bottom. From there you should probably buy a decent SDI router and lastly buy monitors and waveforms because they're the most expensive items.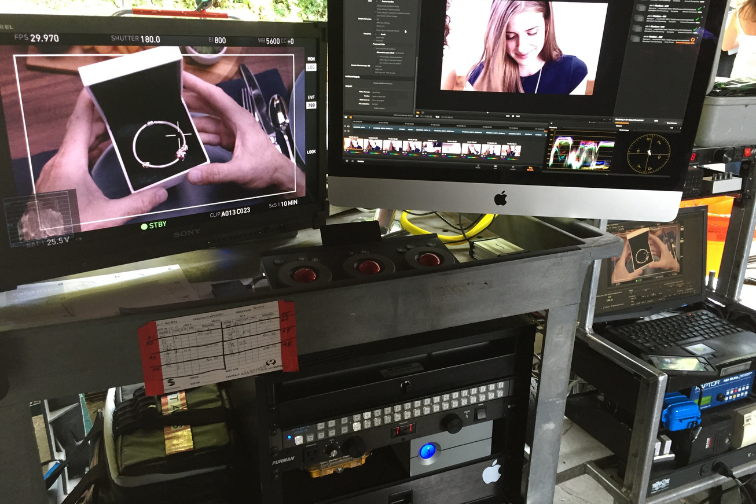 Going along with the previous question, do you have any tips for beginners in the field? What's something you wish you knew when you were first starting out?
Adam: Find a DIT and get on their crew as a Digital Loader or as a Digital Utility. Seek professional on set mentorship. Don't jump ahead until you're ready. Seek advice on rental rates well in advance of being asked. No one likes someone who undercuts their business.
What resources were most helpful to you when you were first starting out?
Adam: My mentors and the greater DIT community. I'd say that being a part of DIT-WIT was a huge help because I had instant access through the Facebook group to excellent DIT's around the world to answer questions and workshop ideas at any time of the day.
Do you have any on-set stories you'd like to share?
Adam: There was a time that we put my cart into a Blackhawk Helicopter…
Recently I was working in Tofino with Viggo Mortensen on a forthcoming feature and the tide came in as we wrapped. Luckily my road case (Mobile DIT setup) was on a table and the tide came in and out as I worked in the surf!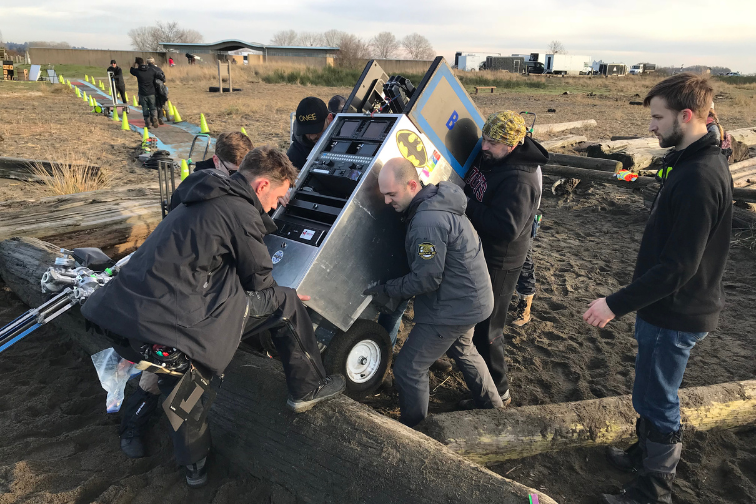 Is there anything else you would like to add?
Adam: Remember that being a DIT is an ever expanding and ever changing role. At its heart it is a technologists position that splits itself between being technical and artistic. Never stop exploring your creativity, go to the movie theatre or art gallery. Gain inspiration from the world around you!
Thanks so much Adam, I know you responses will help provide a lot of valuable information to anyone looking to break into the DIT field. And be sure and check back next week for another Data Expert Interview!