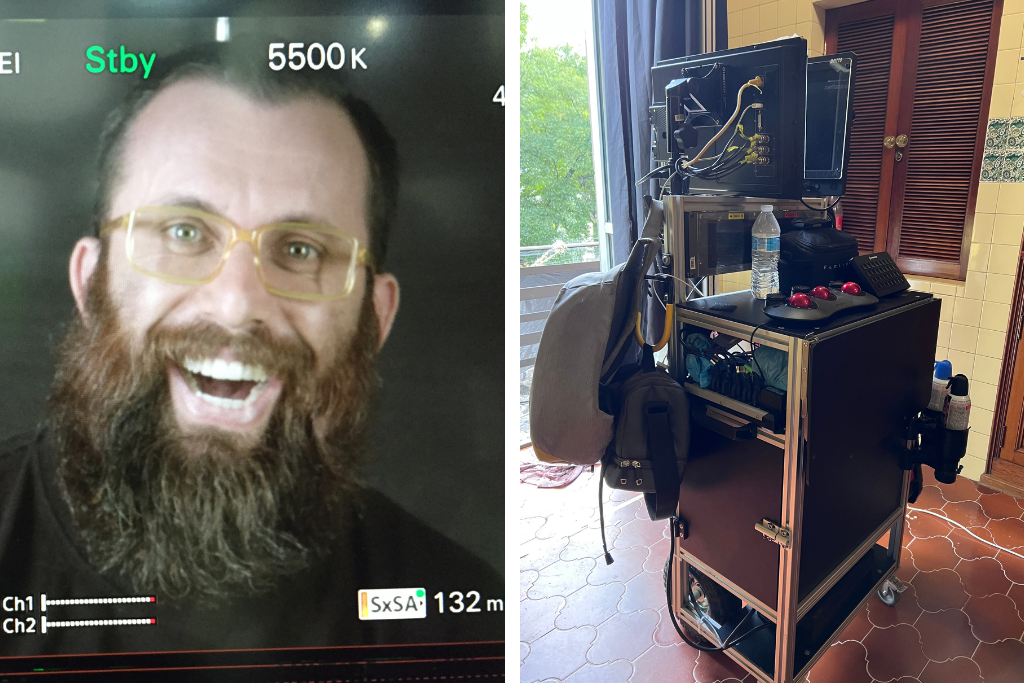 Hello and welcome to our Data Expert Series! We're very excited to have you with us today and to hear all about your workstation/cart set-up. Before we get into the specifics of your equipment and workflow could you take us through some of your past experiences in the industry?
Alexandrous: First and foremost, I'd like to thank Imagine Products for providing these communication spaces that allow industry professionals to share ideas and working methods, breaking down the barriers and distance that separate us. My name is Alexandrous Markowe, and I'm an electronic engineer with a focus on digital signals from Los Libertadores University (Bogota, Colombia). I began my career in the industry in 2009 as a laboratory engineer at FoxTelecolombia (a production house). There, I was responsible for the preventive and corrective maintenance of all technical equipment (lights, cameras, VTR, etc.). I worked together with other engineers to design the workflow for all the company's productions, which included technical production, on-set development, and postproduction for each project. During that time, we used Sony HDC1500 television cameras and the famous Sony F900 for documentary projects (where we found those particular features that Sony offered, such as customized Hypergammas design). It was with the F900 that I developed a fondness for this work. After the F900, we encountered the Sony SRW9000, a camera with more advanced features compared to the F900, and then the evolution of Sony with the F65 (the most beautiful of them all). This is how I started my journey into the world of DIT. After working on various projects in Colombia, I decided to start my own on-set service company (DIT, DATA, VIDEO) in Mexico, which was well-received by cinematographers and producers. Mexico is a wonderful country with great opportunities and a wide range of audiovisual projects (of all types, budgets, and technical developments). Since 2018, I have been involved in numerous projects in Mexico.
What types of productions do you usually work on? What are the main ways in which they differ from each other?
Alexandrous: I exclusively work on narrative content, such as films and TV series; I don't usually work on commercials (as I prefer the longer-term relationship with cinematographers). The technical challenges are more exciting, and the continuity is more special. In Mexico, particularly in commercials, the role of the DIT is not well-established; people often confuse it with the loader or data manager. The involvement with the project from pre-production is very limited. For this reason, I prefer to work on films and TV series, where the value of the DIT is clearer, and their role is better defined.
And a follow-up question to that, do you have a favorite type of production to work on?
Alexandrous: I enjoy projects that come from platforms like Netflix, Amazon, Paramount, or MGM, as they are technically demanding projects. This allows me to expand my knowledge as a DIT, both technically and photographically.
Now everyone has different preferences and a different cart/workstation set-up, could you tell me about yours?
Alexandrous: Right mate, starting with the hardware, the carts we design at ALMA RENTAL are completely custom-made. We used to use Magliner carts at first, but those small and hard-to-reach locations led us to design our own carts. We use anodized 30×30 aluminum profiles, with the standard rack size of 48.5cm wide and 25cm deep. This allows us to have a versatile cart that can be moved around any location, At the bottom, we've got a space for a 900VA UPS (that gives us about 15 to 20 minutes of full charge autonomy), and then we've got a physical space to store two Flanders DM series monitors. I'll explain why we use those in a bit. Having a dedicated space for the monitors allows us to carry them on the cart without having to lug around extra bags on set. You see, the DIT doesn't have an assistant, so we gotta keep things efficient. On top of the monitor compartment, we've got a 4U rack space for setting up our equipment. We've got a patch panel, power supply, RAID, Sonnet chassis, PCI I/O acquisition card, SDI video signal hub, Ethernet hub, Thunderbolt hub, multi-card reader, and card reader (specific to each camera, like Codex or AXSM readers, ya know?). Then we've got a tray on the top for the MacBook laptop, a Tangent Ripple, and a Stream Deck XL. And above that, we've got our Blackmagic scopes and, right on top, our monitors. We use Flanders internal LUT boxes and we've mastered all the capabilities they offer. The input signal goes into the Flanders LUT box, and the output from Flanders goes into the Blackmagic distributor (all in an SDR setup). The distributor sends the signal to the Blackmagic acquisition card, and from there, it goes to the monitors through SDI2. This setup allows me to have a clean signal on SDI 1 and a signal coming from the library of Livegrade or Davinci on SDI 2. We use Livegrade Studio because of its important features, like the library, integration with FilmLight to export BLG files, storage management, and some functions not available in Livegrade Pro. I'd like to mention that each of our carts is converted into a hybrid unit of Livegrade and QTAKE. This allows us to have two different services in one hardware setup without having to constantly assemble and disassemble our carts. I reckon this has been one of our greatest achievements and sets us apart from the rest.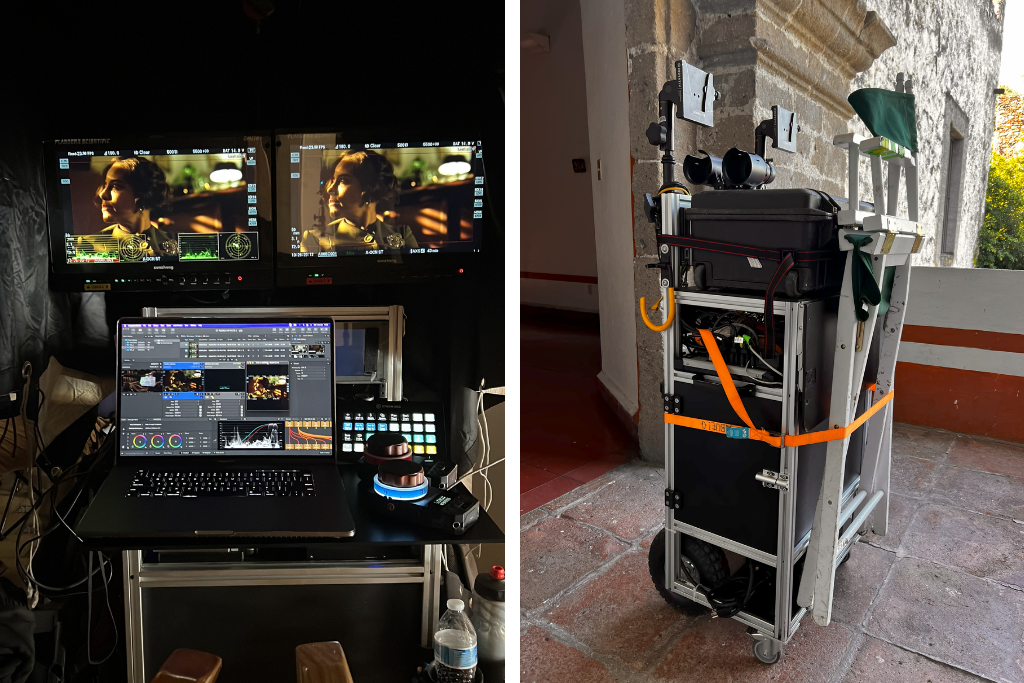 Alexandrous and ALMA Rental's Custom DIT Carts
For those that may just be starting to build their cart/workstation, or are in the early stages of it, what are some pieces of equipment that you consider absolutely essential?
Alexandrous: Right, for those just starting to build their cart/workstation or in the early stages, there are a
few essential pieces of equipment I would recommend. First and foremost, Flanders DM series monitors (this way, you save on purchasing LUT boxes). Flanders monitors allow you to have image acquisition in Livegrade (not video, mind you), but it gets the job done when you're starting out. You'll also need a couple of signal distributors, a Thunderbolt hub, and a small storage solution. It's important to have a versatile cart that can be easily moved around, so you don't have
to lug bags all over the place.
Going along with the previous question, do you have any tips for beginners in the field? What's something you wish you knew when you were first starting out?
Alexandrous: Undoubtedly, theory is the fundamental basis of our work. Without theory, I wouldn't have been able to develop the skill of navigating the set and providing all sorts of solutions. I believe that without a solid understanding of the technical aspects, one cannot properly develop the art.
What resources were most helpful to you when you were first starting out?
Alexandrous: Having engineering knowledge was certainly very useful. Additionally, the photography knowledge I acquired at the beginning of my journey as a DIT proved to be quite valuable.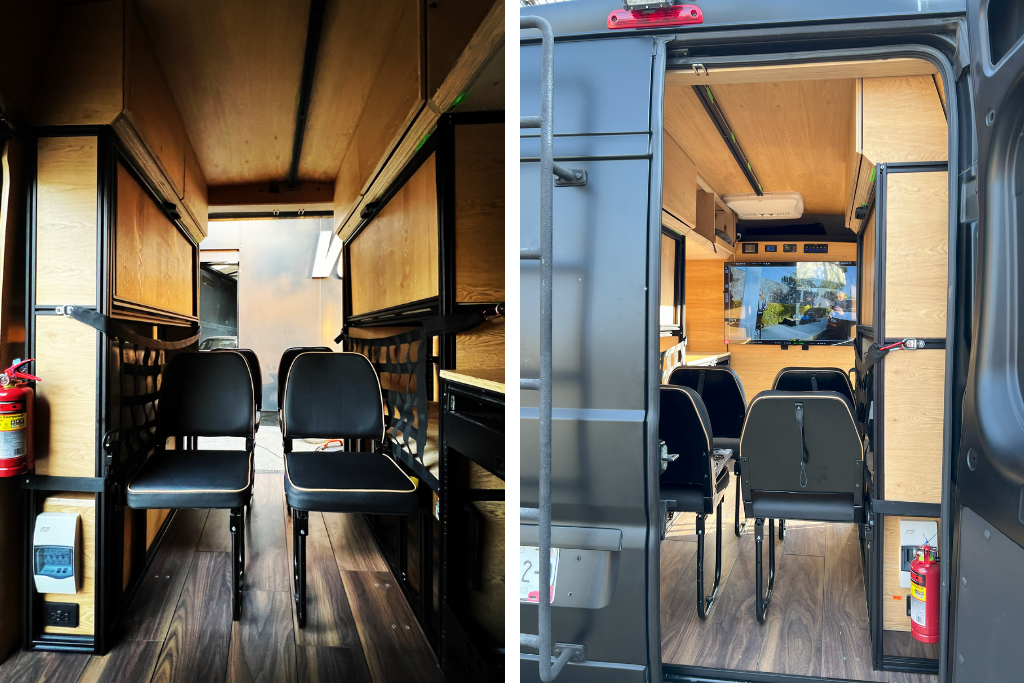 ALMA Rental's DIT Van
Do you have any on-set stories you'd like to share?
Alexandrous: Absolutely! I've got a story from a set that I'd like to share. I was on set with Bradford Young for the technical tests of Bardo (Alejandro Iñárritu's film). On the first day of testing, I approached Bradford to ask him about the value he wanted to set for his middle gray 18%. When I asked this, Bradford burst into laughter immediately and said, "Mate! We've been here for a couple of hours already, and that was the first thing we did!" (Production brought me to set very late). It was quite
embarrassing, hahaha!
Is there anything else you would like to share that was not asked?
Alexandrous: I'd like to share my IMDb account to showcase my work. Additionally, I believe it's important to have media outlets that provide information about these specific roles on set, such as the DIT, to all producers who are still unfamiliar with it.
I fully agree, part of the reason why we started this series was to educate others on the wide variety of tasks that DITs handle during production.  I want to say how grateful we are that you were able to join us today. As you mentioned, connecting with others in the industry can be difficult, so you sharing your experiences, your workflow, and tips for getting started, is helping provide excellent resources for others.
Be sure to keep checking back for more DIT interviews in the coming weeks!